at the Makah Cultural and Research Center
The Makah Tribe welcomes you to visit the Makah Cultural & Research Center, home of the Makah Museum. The Museum interprets and houses 300-500 year old artifacts recovered from the Ozette Archaeological Site. There are historic, as well as replica pieces and photographs that are related to the Makah Tribe on display year-round. There's also a Museum store which features a fantastic gift shop.
Visiting the Museum
The Makah Museum, also known as the Makah Cultural and Research Center, houses and interprets artifacts from the Ozette Archeological Site, a Makah village partly buried by a mudslide 300-500 years ago and discovered in 1970. The museum provides a glimpse of pre-contact Makah life. The exhibits feature artifacts including whaling and fishing gear, basketry and replicas of a full size long house and canoes. Click images to view them larger.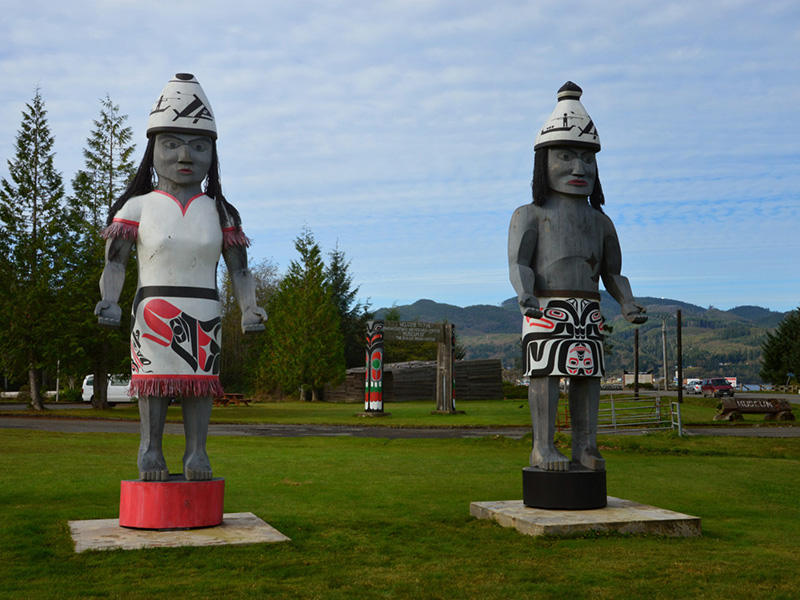 Hours & Admission
The museum opened in 1979 and is open to the public 7 days per week from 10 a.m. to 5 p.m.
Closed New Year's Day, Thanksgiving & Christmas
The museum may be closed due to harsh weather.
Please call 360-645-2711 for more information
Makah Museum Admission:
Adults $10.00
Students (includes college students with ID) $8.00
Senior Citizens (62 years and older) $8.00
Military in uniform $8.00
Children 5 and under are free