Makah Tribe
Public Announcement
January 18, 2022
After careful consideration, the Makah Tribal Council has decided to maintain the closure of the Makah Reservation.
– –
The reservation remains closed near the east boundary on Highway 112. Those who are not permitted for entry will be turned around at our checkpoint.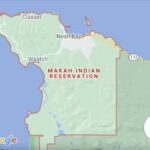 Trails on the reservation (Cape Flattery, Shi Shi Beach) are closed to visitors until further notice.
We are closed to all non tribal fishing and entry by land or sea is not permitted.
The Makah Marina and boat launch are closed to non residents until further notice.
We are not providing marine fuel to non residents until further notice.
Anchoring in the bay is permitted.
Thank you for your understanding.
–
In response to the confirmed person-to-person spread of COVID-19 in Washington State,
The Makah Tribal Council, after careful consideration, has determined the need to implement appropriate measures to protect the health, safety and welfare of the Makah people and the Neah Bay community.  The rapid changes with regard to COVID-19 are a public health concern and the Makah Tribe is carefully monitoring this outbreak and coordinating with Tribal, County and State emergency management agencies as the situation develops.
Hobuck Beach Resort and The Cape Resort will be closed to customers until further notice.
The Shi Shi Trail and Cape Flattery Trail will be closed to the general public until further notice, as well as the 3rd Beach trail commonly used for surfing activities.
The Makah Cultural and Research Center (Museum) will be closed until further notice effective March 16, 2020.
We sincerely apologize for any inconvenience and appreciate your understanding continued patronage in the future.
You may visit the following websites for updates:
or on facebook at Hobuck Beach Resort
Sophie Trettevick Indian Health Center
–
Makah Covid-19 Public Health Protocols
–
Non-Makah Personal Visitor Application
–
Makah Tribal Organization Phone Numbers
The Makah Tribe has called the spectacular Neah Bay, Washington area home since time immemorial. The name Makah was attributed to the Tribe by the neighboring tribes, meaning "people generous with food" in the Salish language. The meaning still applies today, as we invite you to visit our community to enjoy the natural beauty and learn about our culture and history.
The Neah Bay History of the Makah
In the 70's, our southernmost village was discovered and artifacts from our ancestors from 300 to 500 years ago were recovered. Approximately 1% of the artifacts are on display at our nationally renowned Museum at the Makah Cultural and Research Center.
Neah Bay Recreation & Lodging
After a tour of the museum, enjoy the beaches, the rainforest or the ocean by surfing, hiking or fishing. We invite you to stay with us in a variety of accommodations we host here on the Makah Reservation in Neah Bay, Washington on the most northwestern tip of the Olympic Peninsula.
Begin your journey to Neah Bay, Washington here…
For media inquiries on Makah Whaling, please email media.relations@makah.com , otherwise email makah.whaling@makah.com