Makah Days
Welcome to the Annual Makah Days Celebration
Makah Days is scheduled for August 25-27, 2023.
Click on the images at the bottom of this page for more information or visit the Makah Days Facebook page.
If you are interested in participating in the parade or being a vendor, the applications are below.
During Makah Days, the members of the Makah Tribe of Neah Bay gather and reunite with the members who have since moved away, to commemorate thousands of years of the Makah ancient culture and the anniversary of becoming citizens of the United States. We welcome everyone to join us, as we celebrate with neighboring tribes from Washington State and First Nations members from Vancouver Island in Canada. Some of our family members come from Vancouver Island since we are closely related to the Nuu-chah-nulth. The first American flag was raised in Neah Bay on August 26th in 1913 though it wasn't until June 2, 1924 when all Native Americans were granted the right to vote, including the members of the Makah Tribe. We are proud of who we are, where we came from and the contributions from our veterans to World War II, Vietnamese and Korean Wars, and all major conflicts.
Each year, on the weekend closest to the August 26th anniversary, the Tribe prepares for the schedule of events. The list of celebration events is extensive. Enjoy the blend of our traditions of the past with modern times. Some of our cultural activities of the past include: traditional dancing, war canoe races, and salmon bakes. You may also wish to browse the street fair for native arts and crafts or more modern items. Don't miss the Grand Parade, the fireworks or the coronation of the Makah Royal Court. During the pageant, warriors, princesses, kings and queens are crowned.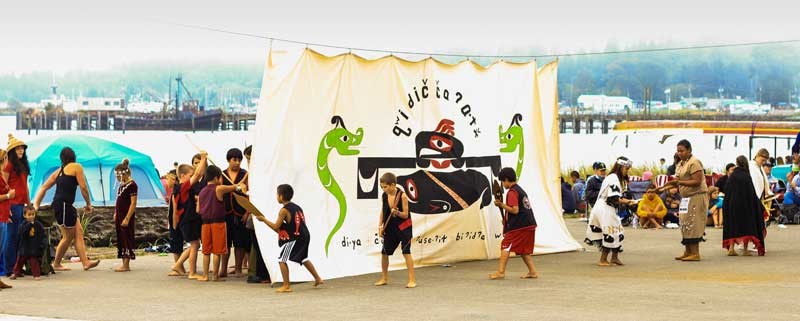 You may wish to test your endurance in the Bahokus Peak Challenge. This 3 mile race is entirely uphill with an elevation gain of almost 1400 feet. Other physical tests include the slahal games and the softball tournament. Our accommodations fill up quickly, so make your reservation early so you can participate in Makah Days.
Are you interested in making a charitable contribution to help support Makah Days activities? Donations may be sent to the Makah Tribe, Makah Days, P.O. Box 115, Neah Bay, WA. 98357. All contributors will be listed as a Sponsor on our advertising. Regarding the deduction of your charitable contributions, the Makah Tribe falls under the following tax regulation:
"Section 7871(a) of the Internal Revenue Code and Section 305.7871-1 of the Income Tax Regulations provide that Indian tribal governments will be treated as States for certain enumerated federal tax purposes. For example, charitable contributions to or for the use of a tribal government may be deductible under the federal income, gift and estate laws."